This is the second installment of a multi-part blog which I am writing in answer to the question: "Who are your role models?" As it turns out, my role models fall into two groups: The first group consists of people who have inspired me most of my life. Whenever I turn to their writings, whenever I think about the life they lived, the choices they made, the challenges they faced, and the spirituality which sustained them, I am renewed and inspired. The short list includes: the Apostle Paul; the reformer Martin Luther; the reformer Katharina von Bora; the resistance pastor Dietrich Bonhoeffer; the pastor and civil rights leader Dr. Martin Luther King; the theologian and mystic Dorothee Soelle.
The second group consists of short time companions. Those are often colleagues or activists whose vision and life resonate with my own vision for a world and a church that is shaped by celebration, justice, art, community building, and an intentional cultivation of all kinds of diversity.
Since there is so much to say about each of these many role models, I have decided to tell you about them one at a time. Today I will present the second person on my list:
The Reformer Martin Luther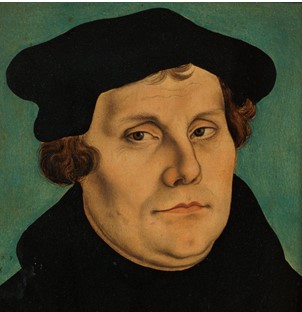 This year we are observing the 500th anniversary of the Reformation, so you have very likely come across many Luther-related publications already. If not, let me encourage you to look up a few. Here are some places to get you started:
A quick overview of Martin Luther's life reveals bright lights and dark shadows. The bright lights include his brilliant mind, his courage, his sense of humor, and his insistence that the grace of God matters above all else. To that I would add his conviction that the church must speak and worship in the language of the people with a theology that can be understood by all people.
The dark shadows include his notion that the peasant revolt needed to be suppressed in a harsh crack-down and his tendency to side with Princes rather than the common people. But worst of all were his horrible writings against Jews. These are the product of his later years, and they are not only repulsive and vile, they also contributed greatly to the horrific fate of Jewish people in many chapters of Germany history. For me as a German this is a very troubling topic which could fill pages and pages. But much has been written about this subject elsewhere, for example this article from the Washington City Paper.
So let me move forward and tell you why Martin Luther has nevertheless made it onto my list of role models:
1.) Martin Luther had a brilliant mind and could present theological arguments in a precise, systematic and scholarly format. But every once in a while he insisted on something being "right". It simply  "felt" right, based on his notion of God's grace. And I just love him for that!! This mental freedom inspires me to forge my own path of honoring and respecting the teachings of the church without being their captive.
2.) Martin Luther lived his life fully, passionately, and with great love. He loved and adored his wife Katharina von Bora, even though the couple had married for practical reasons rather than for love. But soon Martin Luther came to appreciate married life with his capable and competent spouse and said, "There is no more lovely, friendly, and charming relationship, communion, or company than a good marriage." He loved his six children, and he loved the busy life in their huge house which typically included a large number of guests, students, foster-children, and visiting scholars. He loved playing cards and drinking wine and recommended it as a way of fighting depression. He loved gardening, singing, and writing music. He loved the Bible, the living word of God, and rendered it into a stunningly beautiful German translation. And, of course, he loved God. Or rather he discovered the love of God after years of living in fear of God. In response he loved God back with a great and deep and abiding love.
Martin Luther has made it onto my list of role models because he inspires me to live freely, to think deeply, and to love fiercely.
So much for Martin Luther. In my next blog I will write about Katharina von Bora, the wife of Martin Luther.
Pastor Bea Chun