Choral Singing Workshop for Children and Adults
DISCOVER YOUR VOICE!
Choral Singing Workshop for Children and Adults
Discover your voice! Everyone can sing. Our workshop provides a fun group exploration of the singing voice together in a choir. The workshop provides a unique experience for children ages 8-14 and their parents to participate in the same choir.
St. Francis Lutheran Church is an affiliate of the Royal School of Church Music (RSCM). The singing workshop will use materials from the acclaimed RSCM training program.
The workshop will begin with vocal technique and singing exercises, basic music notation and rhythmic exercises. There will be a break time halfway through with snacks and socialization. The second part of the workshop will culminate in the learning of two choral pieces, the Tallis Canon, and Jesu, Joy of Our Desiring by J.S. Bach.
The workshop will include:
Discovering your singing voice: awareness of range, understanding head and chest voice, experimenting with placement, vocal color, and vowel sounds.
Active listening: hearing pitch and intonation, matching melodic intervals and rhythms.
Singing together: matching vowels, hearing intonation with others, examining the composite sectional sound, becoming aware of the whole choral sound of the combined sections.
Register for the workshop
The workshop will be given on two dates:
Tuesday, August 21, 2018, 6:30 PM – 9:30 PM
Saturday, August 25, 2018, 10:00 AM – 1:00 PM
Workshop participants will sing the chosen repertory on Sunday, August 26 at the 11:00 AM service.
To register, please visit  https://www.eventbrite.com/e/discover-your-voice-choral-singing-workshop-for-children-and-adults-tickets-47747941378
Workshop participants are invited to join a newly forming intergenerational choir:
For more information, visit http://sflcsf.org/2018/07/new-intergenerational-choir-forming/.
Frequently Asked Questions
Do I have to know how to sing to participate? Singing is a natural human endeavor, but if we are discouraged rather than encouraged to sing as children or adults, we can start to believe that no one wants to hear our song. If you've ever felt discouraged, please know you and your voice are welcome here!
Do I have to know how to read music to participate? We seek to include all, no matter the level of music-making experience. The workshop is designed to engage those with prior training and experience as well as those who are just starting out.
If my child sings in the workshop, do I have to participate as well? While it is not a requirement for parents to participate, we encourage all parents to sing. The opportunity to create music in community with other adults and our children together is something not to be missed.
What if my child isn't in the age range 8-14, but still wants to participate? Contact us and we will be happy to discuss possibilities.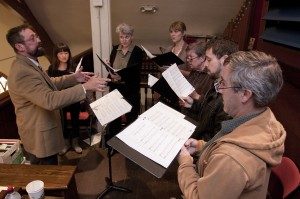 About the teachers
David Schofield has served as Director of Music at St. Francis Lutheran Church since 2005. He previously held posts at Columbia University, C.F. Peters Music Publishers, the Church of Notre Dame in New York, and at St. Dominics in San Francisco. He was Music Director of several choral ensembles, including the Ars Choralis Chorus and Orchestra, and Schola Nova, an all-male group dedicated to chant repertory. He has conducted recordings with the New York Madrigal Singers and the Musicians of St. Dominics.
As solo organist, he has given performances at notable venues including the Riverside Church in New York, Grace Cathedral and St. Mary's Cathedral in San Francisco, and the Cathedral of Our Lady of the Angels in Los Angeles. He has been invited to give concerts of improvisation at the Nightwatch and Vespers at the Cathedral of St. John the Divine in New York. His performances of Bach have been featured on National Public Radio's Pipedreams.
Dr. Schofield holds degrees from the Manhattan School of Music, the Universite de Paris, Sorbonne, and the University of Cincinnati, College-Conservatory of Music.
Elizabeth Kimble (soprano) is an active singer, teacher, conductor, and composer based in San Francisco. Her music often combines poetry and theatre with more traditionally instrumental forms. Originally from the East Coast, since moving to the Bay Area she has performed with a wide variety of ensembles including the San Francisco Symphony Chorus, Cappella SF, the California Bach Society, and Gaude. Her music has also recently been featured by the San Francisco Chamber Orchestra, SF Sound, Trinitas Vocal Ensemble, and the International Orange Chorale. Elizabeth holds a Masters Degree in Composition from the San Francisco Conservatory of Music and Bachelor Degrees in Composition and Voice Performance from Baldwin-Wallace University.