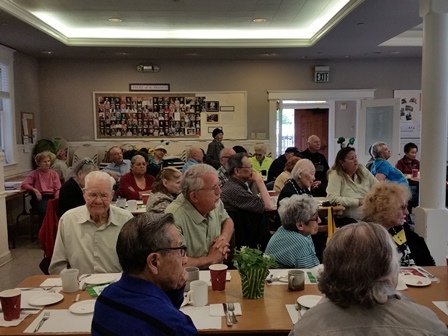 All seniors are welcome at the St. Francis Senior Center.
Location: We are near Market, accessible from MUNI Metro, 37 Corbett & 22 Fillmore lines.
Entrance at the north side of the church and is wheel chair accessible.
PLEASE PUSH THE PARISH HALL BUTTON AT PANEL.
Our Phone Number is: (415) 621-2635

The weekly senior program is WEDNESDAYS ONLY.
SCHEDULE:
10:00 AM: The Senior Center opens for hospitality
10:15 AM: Discussion and Inspiration
11:00 AM: Program of the week
12:00 PM: Lunch ($2.00 fee)
Wed., July 3: Independence Day Celebration. The EJ's will perform.
Wed., July 10: Rebecca Hartman, DPT, from Kaiser Health will present "Exercise and Fall Prevention"
Wed., July 17: An episode of the "Golden Girls" will be shown
Wed. July 24: An interactive demonstration of new voting equipment for San Francisco voters. Presented by staff of the SF Department of Elections
Wed. July 31: Story and song program for Jerome Kern presented by Danny Halford