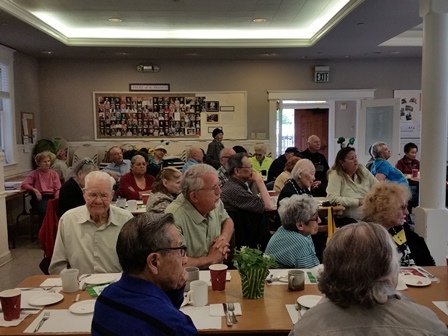 All seniors are welcome at the St. Francis Senior Center.
Location: We are near Market, accessible from MUNI Metro, 37 Corbett & 22 Fillmore lines.
Entrance at the north side of the church by the Burgermeister restaurant is wheel chair accessible.
PLEASE PUSH THE PARISH HALL BUTTON AT PANEL.
Our Phone Number is: (415) 621-2635

The weekly senior program is WEDNESDAYS ONLY.
SCHEDULE:
10:00 AM: The Senior Center opens for hospitality
10:15 AM: Discussion and Inspiration
11:00 AM: Program of the week
12:00 PM: Lunch ($2.00 fee)
Schedule For March 2018

Wed., March 7- Marian and Mike Billo return with old standards. Marian sings and Mike plays the guitar and harmonica. You'll enjoy this performance and want to join in.
Wed., March 14 – St. Patrick's Day celebration with the traditional corned beef and cabbage lunch. Program to be determined.

Wed., March 21 – Roslyn Harris will discuss eligibility for Para Transit Services and Shop Around which provides transportation to local stores.

Wed., March 28 – Come and hear "Big Lou" play toe-tapping music on her accordion.
---
We seek your support
The St. Francis Senior Center is sustained by the generosity of those who give of their money, time and caring hearts. We are grateful for all who contribute in making this place special! The cost of our program is $2.00. If you can put in more from time to time, we ask you to do so. We appreciate your support. We thank you.
Beverly Hines, Senior Center Director
Stephen Camarota, Community Food Programs Administrator
Diane Marshall, Chef