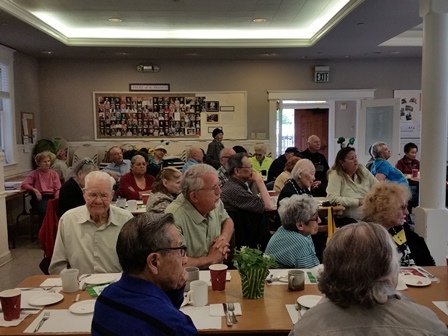 All seniors are welcome at the St. Francis Senior Center.
Location: We are near Market, accessible from MUNI Metro, 37 Corbett & 22 Fillmore lines.
Entrance at the north side of the church by the Burgermeister restaurant is wheel chair accessible.
PLEASE PUSH THE PARISH HALL BUTTON AT PANEL.
Our Phone Number is: (415) 621-2635

The weekly senior program is WEDNESDAYS ONLY.
SCHEDULE:
10:00 AM: The Senior Center opens for hospitality
10:15 AM: Discussion and Inspiration
11:00 AM: Program of the week
12:00 PM: Lunch ($2.00 fee)
Schedule For June 2018

Wed., June 6 – The "Singers of the Street" directed by Sally Ann Ryan will be performing for us.
Wed., June 13 – Paul Benz, the traveling music man from Uganda to the Lutheran seminary will play the guitar and sing.

Wed., June 20 – Nicole Espera will present "On-Lok," a non-profit organization for seniors providing wrap around health care services.
After lunch – sing along with John Lewis.

Wed., June 27 – Independence Day Celebration
Mary Spalding performs on the Caribbean steel drums. Mary has studied and performed on steel drums for the past 25 years, and is delighted to have the opportunity to demonstrate the beauty and versatility of these instruments.
Lunch will be the traditional July 4th menu of hamburgers, hot dogs and all the trimmings.
Our center will be closed for the holiday next Wednesday, which is July 4.
---
We seek your support
The St. Francis Senior Center is sustained by the generosity of those who give of their money, time and caring hearts. We are grateful for all who contribute in making this place special! The cost of our program is $2.00. If you can put in more from time to time, we ask you to do so. We appreciate your support. We thank you.
Beverly Hines, Senior Center Director
Stephen Camarota, Community Food Programs Administrator
Diane Marshall, Chef