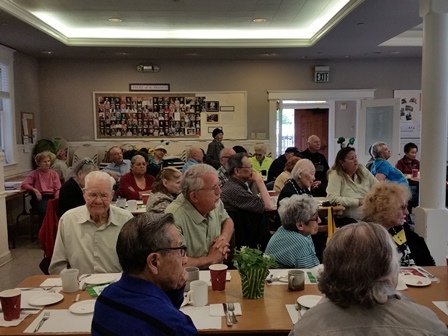 The Senior Center is now open for hospitality every Wednesday. Please join us and visit with old friends.
All seniors are welcome at the St. Francis Senior Center.
Location: We are near Market, accessible from MUNI Metro, 37 Corbett & 22 Fillmore lines.
Entrance at the north side of the church and is wheel chair accessible.
We do have some requirements due to the pandemic:
Must wear a mask when not eating

We will provide spacing at tables

Coffee, tea, pastries and lunch will be served to the seniors. There is no self service.

Used dishes + cups will be removed from the tables by our volunteers
Dress warm—windows and doors could be open. 
PLEASE PUSH THE PARISH HALL BUTTON AT PANEL.
Our Phone Number is: (415) 621-2635
The weekly senior program is WEDNESDAYS ONLY.
SCHEDULE:




10:00 AM: The Senior Center opens for hospitality




10:30 AM: Please arrive Early so we know how many lunches to serve




11:00 AM: Program of the week




12:00 PM: Lunch ($2.00 fee)