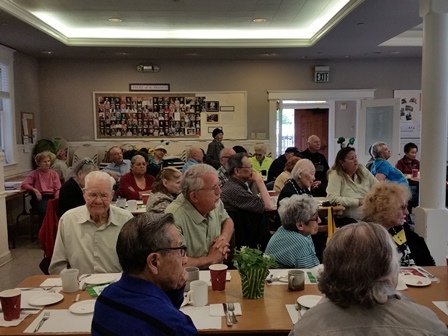 All seniors are welcome at the St. Francis Senior Center.
Location: We are near Market, accessible from MUNI Metro, 37 Corbett & 22 Fillmore lines.
Entrance at the north side of the church by the burger restaurant is wheel chair accessible.
PLEASE PUSH THE PARISH HALL BUTTON AT PANEL.
Our Phone Number is: (415) 621-2635

The weekly senior program is WEDNESDAYS ONLY.
SCHEDULE:
10:00 AM: The Senior Center opens for hospitality
10:15 AM: Discussion and Inspiration
11:00 AM: Program of the week
12:00 PM: Lunch ($2.00 fee)
Schedule For August 2017

Wed., Aug 2 – Chuck Hancock presents "Panama Adventure." He will be sharing his recent trip to Panama and the canal.

Wed., Aug 9 – Wes Winters remembers Princess Diana ("the people's princess") on the 20th anniversary of her tragic death.
Wed., Aug 16 – Kelly Keys will give a piano performance for your listening or singing pleasure.
Wed.,Aug 23 – Marian and Mike Billo return with old standards. Marian sings and Mike plays the guitar and harmonica.
Wed.,Aug 30 – Jason Flatt, PhD, MPH will present "Maintain Your Heart Health!" There are many things you can do to keep your heart healthy. This talk will focus on various tips for keeping one of your most impressive muscles strong and healthy. We will also play a fun game to help you learn all the great tips.
Jason is an assistant professor at the Institute for Health and Aging at the University of California, San Francisco.
---
We seek your support
The St. Francis Senior Center is sustained by the generosity of those who give of their money, time and caring hearts. We are grateful for all who contribute in making this place special! The cost of our program is $2.00. If you can put in more from time to time, we ask you to do so. We appreciate your support. We thank you.
Beverly Hines, Senior Center Director
Stephen Camarota, Community Food Programs Administrator
Diane Marshall, Chef