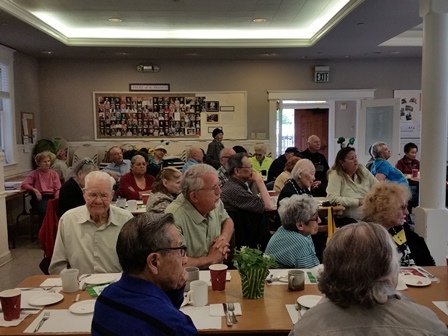 All seniors are welcome at the St. Francis Senior Center.
Location: We are near Market, accessible from MUNI Metro, 37 Corbett & 22 Fillmore lines.
Entrance at the north side of the church and is wheel chair accessible.
PLEASE PUSH THE PARISH HALL BUTTON AT PANEL.
Our Phone Number is: (415) 621-2635

The weekly senior program is WEDNESDAYS ONLY.
SCHEDULE:
10:00 AM: The Senior Center opens for hospitality
10:15 AM: Discussion and Inspiration
11:00 AM: Program of the week
12:00 PM: Lunch ($2.00 fee)
Wednesday March 4
Golden Girls Episode from their TV Series
Wednesday March 11
Special video chronicling the journey of allowing LGBTQ pastors full inclusion in the Evangelical Lutheran Church of America
Program starts at 10:45 PM
Wednesday March 18
The EJ's perform with Irish favorites

Wednesday March 25
Old cowboy and railroad songs presented by Mike and Daniel