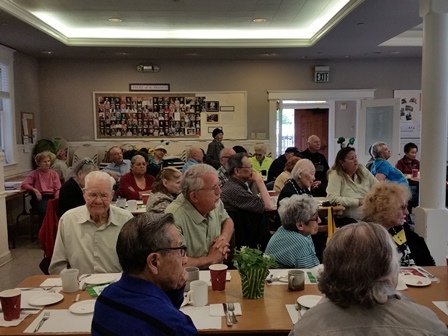 All seniors are welcome at the St. Francis Senior Center.
Location: We are near Market, accessible from MUNI Metro, 37 Corbett & 22 Fillmore lines.
Entrance at the north side of the church by the burger restaurant is wheel chair accessible.
PLEASE PUSH THE PARISH HALL BUTTON AT PANEL.
Our Phone Number is: (415) 621-2635

The weekly senior program is WEDNESDAYS ONLY.
SCHEDULE:
10:00 AM: The Senior Center opens for hospitality
10:15 AM: Discussion and Inspiration
11:00 AM: Program of the week
12:00 PM: Lunch ($2.00 fee)
Schedule For June 2017

Wed., June 7 – Tunes for Fiddle and Guitar: Irish, flamingo and gypsy jazz by Scott Fleichter and David Reffkin from the Community Music Center. This program is a gift to the seniors of our center from Sally Large, the director of the Friends of St. Francis Childcare Center.

Wed., June 14 – Charles Vella, PhD. presents Stroke Prevention. He will review symptoms, statistics, types and causes of stroke.
Wed., June 21 – Movie Day – Movie starts at 10:15 AM. Join your friends to see Grumpier Old Men.
Wed., June 28 – Kelly Keys will entertain us with his piano performance. This is a fun program. You can listen or sing along.
---
We seek your support
The St. Francis Senior Center is sustained by the generosity of those who give of their money, time and caring hearts. We are grateful for all who contribute in making this place special! The cost of our program is $2.00. If you can put in more from time to time, we ask you to do so. We appreciate your support. We thank you.
Beverly Hines, Senior Center Director
Stephen Camarota, Community Food Programs Administrator
Megan Sue Belafonte, Chef
Diane Marshall, Chef