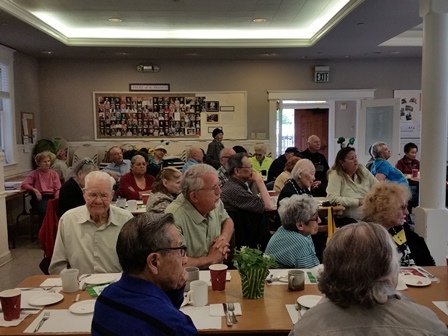 All seniors are welcome at the St. Francis Senior Center.
Location: We are near Market, accessible from MUNI Metro, 37 Corbett & 22 Fillmore lines.
Entrance at the north side of the church by the burger restaurant is wheel chair accessible.
PLEASE PUSH THE PARISH HALL BUTTON AT PANEL.
Our Phone Number is: (415) 621-2635

The weekly senior program is WEDNESDAYS ONLY.
SCHEDULE:
10:00 AM: The Senior Center opens for hospitality
10:15 AM: Discussion and Inspiration
11:00 AM: Program of the week
12:00 PM: Lunch ($2.00 fee)
Schedule For July 2017

Wed., July 5 – Independence Day Celebration with Jane and Jim and the Chinese Folk Dance Group. Lunch will be the traditional July 4th menu of hamburgers, hot dogs, and all the trimmings.

Wed., July 12- Everything you should know about "scams." Glen Fishman, from the Institute on Aging, will review the latest and most popular scams, the red flags and warning signs we should be aware of ,and the local resources that are available.
Wed., July 19 – Come and visit with friends, play cards, or join a discussion group.
Wed., July 26 – Wes Winters presents "The Joy of Stress." Learn to use humor to break the negative and prevent "hardening of the attitude." All in all, a laugh riot!!!
---
We seek your support
The St. Francis Senior Center is sustained by the generosity of those who give of their money, time and caring hearts. We are grateful for all who contribute in making this place special! The cost of our program is $2.00. If you can put in more from time to time, we ask you to do so. We appreciate your support. We thank you.
Beverly Hines, Senior Center Director
Stephen Camarota, Community Food Programs Administrator
Diane Marshall, Chef