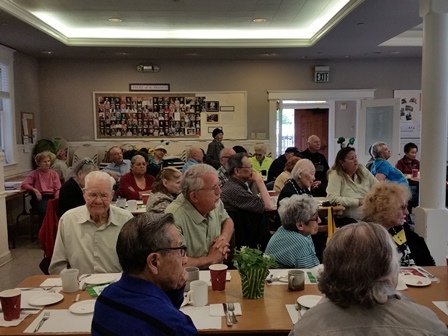 All seniors are welcome at the St. Francis Senior Center.
Location: We are near Market, accessible from MUNI Metro, 37 Corbett & 22 Fillmore lines.
Entrance at the north side of the church and is wheel chair accessible.
PLEASE PUSH THE PARISH HALL BUTTON AT PANEL.
Our Phone Number is: (415) 621-2635

The weekly senior program is WEDNESDAYS ONLY.
SCHEDULE:
10:00 AM: The Senior Center opens for hospitality
10:15 AM: Discussion and Inspiration
11:00 AM: Program of the week
12:00 PM: Lunch ($2.00 fee)
Wednesday, June 5: Seniors will learn about arthritis, what it is and ways to cope in every day life. Presented by Grace Scheer from the Arthritis Foundation.
Wed., June 12: Celebrate "Mothers and Fathers Day" with the Chinese Folk Dance Group. The costumes and dances are beautiful.
Wed., June 19: The NBC Project Twenty Productions of the 1950's and 1960's created the world of historical documentary for prime time tv. Today we will see "life in the Thirties."
Wed. June 26: Baritone, Richard Fey will sing an exciting combination of musical theater, opera, art songs and old standards. He is a graduate of the San Francisco Merola Opera and recipient of various awards as well as participation in the Yale Summer School of Music and Art. Richard employs some costumes to enhance his work as well as brief descriptions of his rich repertoire.