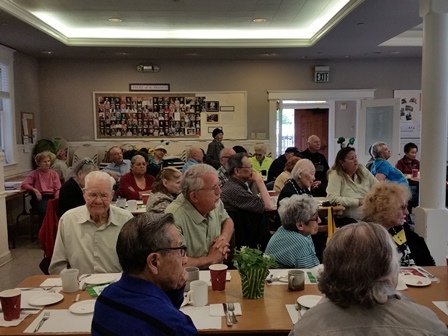 All seniors are welcome at the St. Francis Senior Center.
Location: We are near Market, accessible from MUNI Metro, 37 Corbett & 22 Fillmore lines.
Entrance at the north side of the church by the Burgermeister restaurant is wheel chair accessible.
PLEASE PUSH THE PARISH HALL BUTTON AT PANEL.
Our Phone Number is: (415) 621-2635

The weekly senior program is WEDNESDAYS ONLY.
SCHEDULE:
10:00 AM: The Senior Center opens for hospitality
10:15 AM: Discussion and Inspiration
11:00 AM: Program of the week
12:00 PM: Lunch ($2.00 fee)
Schedule For June 2018

Wed, Aug 1- The Fat Chance Belly Dance – an improvisational belly dance troupe featuring dancers of all ages, sizes and backgrounds. Fat Chance teaches classes and workshops at their home studio at 18th and South Van Ness Ave in the Mission district. They perform all over the bay area and beyond. This is a performance you don't want to miss. Please be early. They do not dance the entire hour.

Wed, Aug 8 – First: A short film "1906 Trip Down Market Street." Just days before the earthquake and fire destroyed much of the west's greatest city, pioneer filmmakers, the Miles Brothers, bolted a hand-cranked camera to the front of a cable car and filmed the end of an era.
Second: Time to visit with friends, play cards, or just join a discussion group. The choice is yours.

Aug 15 – "Big Lou" will be playing European favorites on her accordion with standards from Italy, Germany, France and Mexico.

Wed., Aug 22 – "The Wild Parrots of Telegraph Hill" video.
Movie starts at 10:30 AM. A rare documentary that has romance, comedy and a surprise ending.
Aug 29 – Jessica McCracken from Ruth's Table will join us to share her passion and expertise with creative programming. She will share her working knowledge of the positive benefits participation in the arts can provide. Jessica is familiar with the Bay Area arts and culture sector and will come with ideas to share for how we can bring creativity into our lives. Ms. McCracken is the Vice President of Ruth's Table, a creative learning center in the Mission District and previous worked at Institute on Aging where she was their master art teacher for ten years.
---
We seek your support
The St. Francis Senior Center is sustained by the generosity of those who give of their money, time and caring hearts. We are grateful for all who contribute in making this place special! The cost of our program is $2.00. If you can put in more from time to time, we ask you to do so. We appreciate your support. We thank you.
Beverly Hines, Senior Center Director
Stephen Camarota, Community Food Programs Administrator
Diane Marshall, Chef