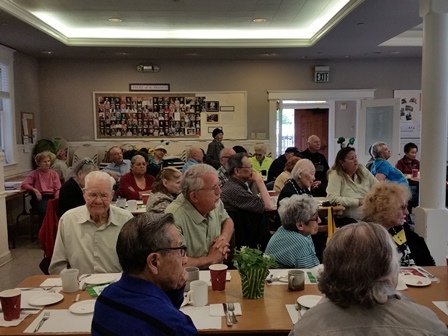 All seniors are welcome at the St. Francis Senior Center.
Location: We are near Market, accessible from MUNI Metro, 37 Corbett & 22 Fillmore lines.
Entrance at the north side of the church and is wheel chair accessible.
PLEASE PUSH THE PARISH HALL BUTTON AT PANEL.
Our Phone Number is: (415) 621-2635

The weekly senior program is WEDNESDAYS ONLY.
SCHEDULE:
10:00 AM: The Senior Center opens for hospitality
10:15 AM: Discussion and Inspiration
11:00 AM: Program of the week
12:00 PM: Lunch ($2.00 fee)
Schedule For January 2018

Wed., Jan 2 – Kelly Keys will give a piano performance for your listening, singing or dancing pleasure.
Wed., Jan 9 – Marsha White, a member of St. Francis Church, presents "Alice." Alice is a senior dog from Senior Rescue and has worked as a therapy dog. Alice enjoys visiting people in various facilities and is happy to be at our senior center.
Wed., Jan 16 –  Mike and Marian Billo return with old standards. Marian sings and Mike plays the guitar and harmonica. This is a toe-tapping performance.
Wed.  Jan 23 – Join us to watch a documentary of "King Ludwig's Fairy Tale Castle." This is a trip back in time in the Bavarian Alps.
Wed.  Jan 30 – Movie Day – come early – the movie starts at 10AM.
Join your friends to see "Hidden Figures." This film tells the incredible untold story of three brilliant African-American women working at NASA who served as the brains behind the launch into orbit of astronaut John Glenn. This film was nominated for 5 Academy Awards.
---
We seek your support
The St. Francis Senior Center is sustained by the generosity of those who give of their money, time and caring hearts. We are grateful for all who contribute in making this place special! The cost of our program is $2.00. If you can put in more from time to time, we ask you to do so. We appreciate your support. We thank you.
Beverly Hines, Senior Center Director
Stephen Camarota, Community Food Programs Administrator
Diane Marshall, Chef